Good sleep starts with a good mattress. Wind anatomic mattress will offer you the rest you need after a hectic day. SEA CELLTM technology which is applied to the fabric's surface treatment makes use of all the properties of algae which are beneficial to humans due to the high content in minerals and vitamins. The pocket springs system absorbs shocks and prevents the transfer of movement from one person to another during sleep.
Springs: 780 in 160x200cm

Height: 24cm (±1cm)

Warranty: 3 years

Feel: Medium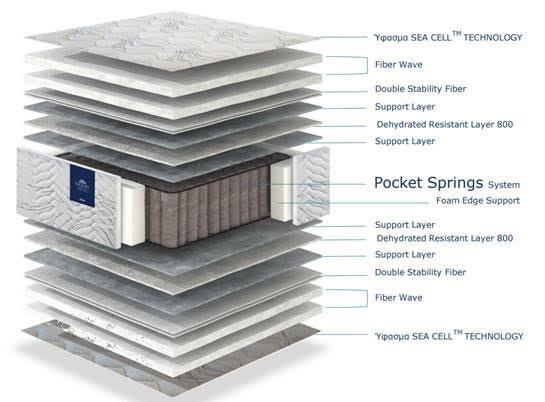 SEA CELL TECHNOLOGY FABRIC
This technology makes use of all the positive properties of algae. Algae are the most abundant plant on the planet and are known for their beneficial properties for humans thanks to their high content in minerals and vitamins. The treatment is applied directly to the yarn so that the fabric does not lose its properties and can be washed at 30°C up to 5 times. In addition, the fabric contains viscose for a soft feel and durability.

POCKET SPRINGS

The Pocket Spring system provides the ultimate support while at the same time enhances the feeling of softness. This is achieved due to the different pressure that exerts every point depending on the pressure it receives. The independent movement of each spring enables the mattress to adapt to different sleeping positions and the shape of the body by "hugging" it. The complete shock absorption prevents the transfer of movement, so that during sleep two people are not affected by each other's movements on the mattress.
FOAM ENCASEMENT

Foam encasement is a perimeter of sturdy foam blocks that are all around the interior edges of the bed, adjacent to the springs. It provides edge support, so you can sleep near the edge without feeling like you're going to roll off.