Sleep comfortably and restfully on the Pearl orthopedic mattress. SEA CELLTM technology which is applied to the fabric's surface treatment makes use of all the properties of algae which are beneficial to humans due to the high content in minerals and vitamins. The reliable Bonnel spring system will provide ideal support for your body and spine during sleep and is highly durable.
Springs: 370 in 160x200cm

Height: 23cm (±1cm)

Warranty: 2 years

Feel: Medium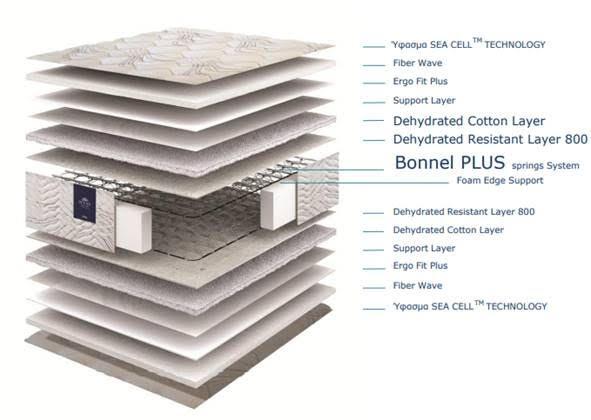 SEA CELL TECHNOLOGY FABRIC
This technology makes use of all the positive properties of algae. Algae are the most abundant plant on the planet and are known for their beneficial properties for humans thanks to their high content in minerals and vitamins. The treatment is applied directly to the yarn so that the fabric does not lose its properties and can be washed at 30°C up to 5 times. In addition, the fabric contains viscose for a soft feel and durability.

BONNEL SPRINGS

The Bonnel Springs system is a traditional, very resilient system which offers the ideal support for the body and maintains the proper spinal alignment during sleep. The springs are made of stainless steel and are interconnected by a special metal wire on both sides achieving stability and keeping the shape of the mattress at its original form. The different size, thickness and height of the springs adjust the mattress's firmness to each body's needs. 
FOAM ENCASEMENT

Foam encasement is a perimeter of sturdy foam blocks that are all around the interior edges of the bed, adjacent to the springs. It provides edge support, so you can sleep near the edge without feeling like you're going to roll off.