Good sleep helps us rest and rejuvenate and improves the quality of our life. The Core iSeries mattress is made to offer the best sleep you've ever had. The Latex layer is hypoallergenic, antimicrobial, and antibacterial, while it also allows the air to circulate in the inner layers of the mattress resulting in a healthy and restful sleep. The combination of Memory Foam and HR foam materials of different densities offers ergonomic support and creates the feeling of sleeping on clouds.


Height: 24cm

Warranty: 5 years

Feel: Medium to hard

Maximum supported weight per person: 120kgs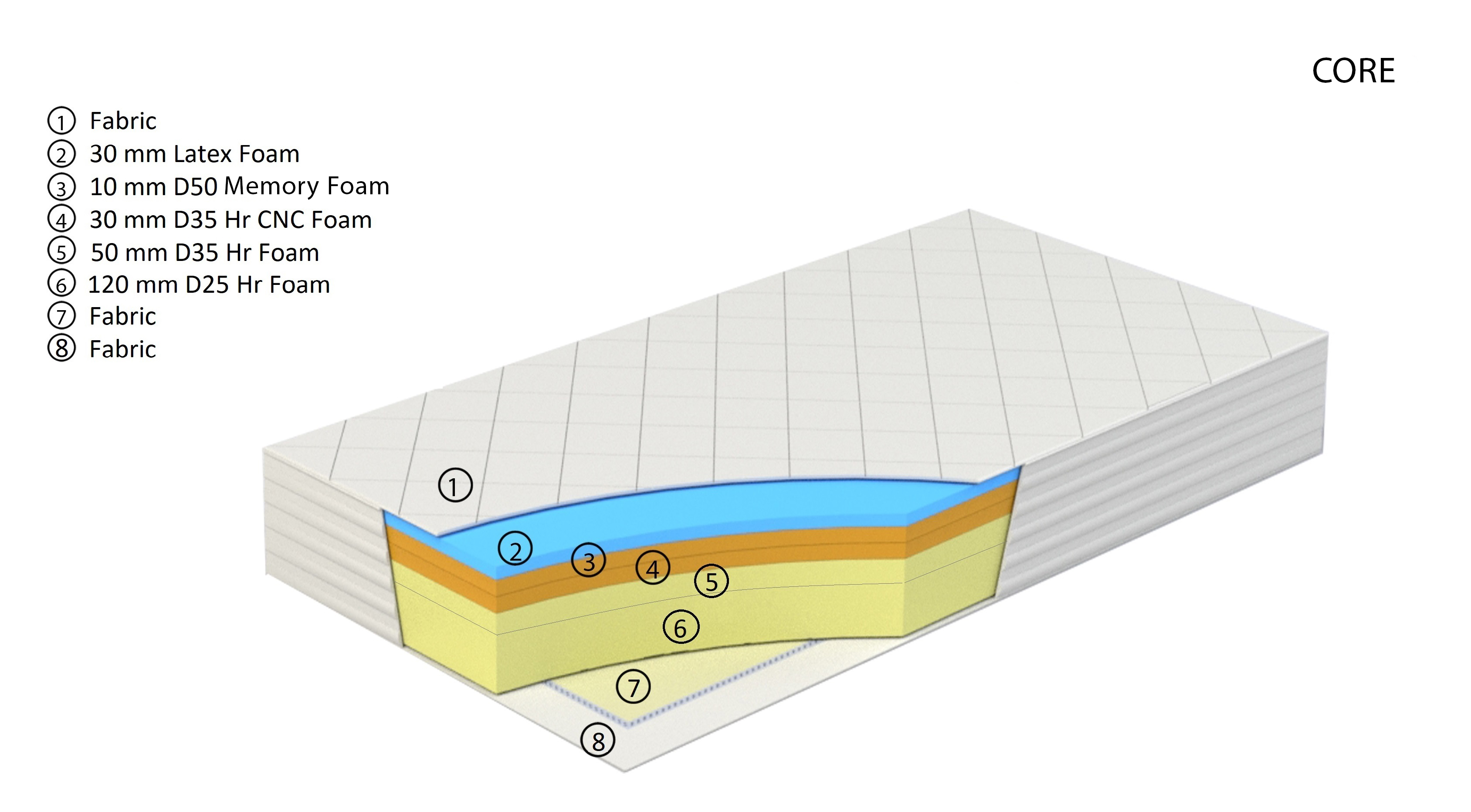 LATEX
Latex is derived from the milk or sap of rubber trees called Hevea brasiliensis. It is hypo-allergenic, antimicrobial, and antibacterial and it offers a feeling of relaxation and wellness. Elastic material with an outstanding air circulation system made up by the large number of vents. It is highly resilient, and it has a bounce back effect that offers superior anatomy.
MEMORY FOAM
Memory foam is a cutting-edge technology foam that offers a restful and comfortable sleep. It conforms perfectly to the shape of the body, and it provides ideal support to the back, the neck, and the joints. It reacts to temperature by becoming soft when it comes to contact with warmer body parts and by remaining unchanged with the rest.  It is also moisture absorbent and hypo-allergenic creating a safe and healthy sleeping environment.
HR FOAM
HR FOAM is the evolution of technology when it comes to foam. Its open cell structure allows air to flow inside the mattress and its high density ensures maximum performance since it provides great elasticity, excellent bounce back effect and durability even after many years of use.
COOL FABRIC
Adjusts to the body's temperature preventing overheating and thus offering a comfortable and healthy sleep.